In order to comprehensively implement the spirit of the 20th National Congress of the Communist Party of China and strive to write a new chapter of Xinjiang's Chinese modernization, on July 12th, China Electricity Council (hereinafter referred to as "CEC") and TBEA Co., Ltd. (hereinafter referred to as "TBEA") held a symposium and signed a strategic cooperation agreement in Changji, Xinjiang. Under the witness of Yang Kun, Party Secretary and Vice President of CEC, and Zhang Xin, Party Secretary and Chairman of TBEA, representatives from both parties, Hao Yingjie, Party Committee Member and Secretary-General of CEC, and Huang Hanjie, Party Committee Member and President of TBEA, signed the strategic cooperation agreement.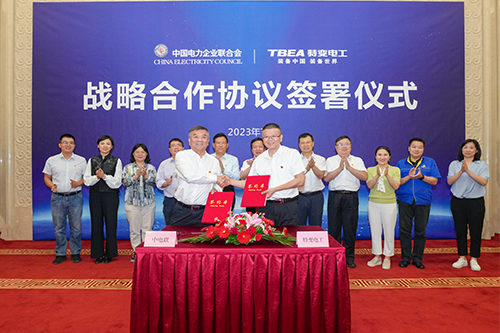 According to the strategic cooperation agreement, CEC and TBEA will establish a comprehensive strategic partnership focusing on such areas as carbon peaking and carbon neutrality action plans, energy and power development planning, new power system construction, green and low-carbon innovation in power equipment, research on major industry issues, standard making and revision, as well as corporate culture development. CEC and TBEA will work together to promote the high-quality development of China's power industry.
During the forum, Yang Kun presented CEC's achievements on think tank construction in such areas as ensuring power supply, constructing new power systems, establishing carbon markets and electricity pricing mechanisms. He stressed that as an executive member of CEC, TBEA has continuously made milestone achievements in new energy and new materials, ultra-high voltage innovative technologies, as well as green and intelligent equipment manufacturing in recent years. He hoped that the TBEA would strengthen cooperation with CEC in areas such as green and low-carbon transition, technological innovation of power equipment, as well as medium to long-term development planning, in a joint effort to promote high-quality development of the industry.
Zhang Xin expressed heartfelt gratitude for the long-term support and assistance of CEC. He pointed out that over the years CEC has been committed to industry development and has played a vital role of a bridge and bond, actively serving China's drive to go green and low-carbon in the energy and power sectors. He stated that he hopes both parties would take the signing of strategic cooperation agreement as an opportunity to further expand in-depth cooperation in multiple areas and through various modes, in a joint effort to strengthen China's high-tech self-reliance and contribute to the construction of a new energy system.
Upon joining CEC, TBEA has fulfilled its responsibilities as an executive member by actively engaging in dialogue and collaboration with member companies, and conducting joint scientific and technological innovation and product research and development. CEC has played the role of platform and bridge, establishing VIP client communication channels for member companies, strengthening technology promotion and brand publicity, and jointly conducting talent cultivation, education, and training for the power sector. CEC has provided strong support for TBEA's high-quality development during the "14th Five-Year Plan" period.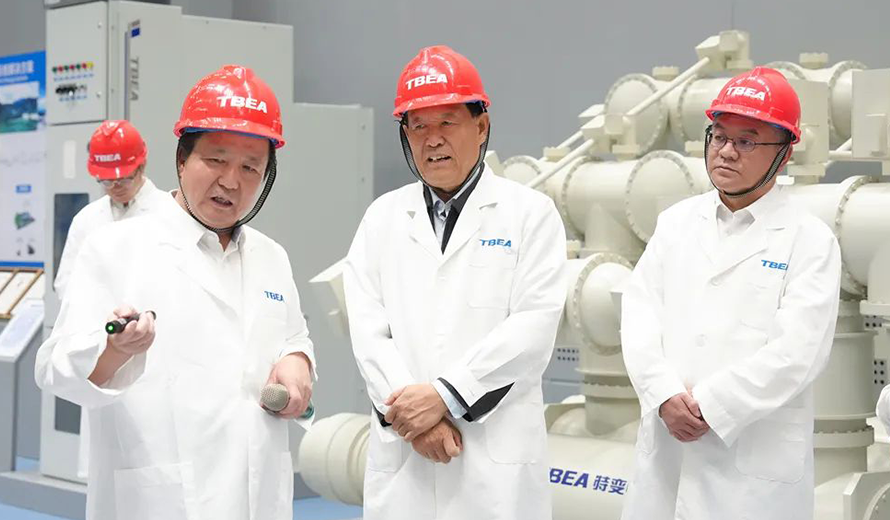 Yang Kun and his team conducted on-site inspections at TBEA's Northwest Power Transmission and Distribution Technological Industrial Park on that day, including the 1100kV workshop and the 750kV workshop. They visited the entrepreneurship exhibition hall at TBEA's headquarters. They also participated in party building activities together with TBEA's Party Committee.
Relevant personnel from the Working Department, Planning and Development Department, Membership and Enterprise Department, Development Institute, and other departments of the CEC, as well as Huang Hanjie, Party Committee Member and President of TBEA, participated in the aforementioned activities.