The Kela Phase I PV Power Station situated in the Yalong River basin, the world's largest and highest-altitude hydropower and PV complementary power station went into operation for power generation on June 25, 2023. This project is the first solar-hydro power station constructed during the "14th Five-Year Plan" period in the Clean Energy Base of Yalong River basin, which is the third-largest hydropower base in China. It is also a key project included in the renewable energy development planning of Sichuan Province during the "14th Five-Year Plan" period. "Solar-hydro complementarity" refers to the integration of photovoltaic power into hydropower stations, using hydropower to regulate the fluctuations of photovoltaic power generation and tackle solar power's inherent dependence on climate. With an annual power generating capacity of 2 billion kilowatt hours, the Kela Phase I PV Power Station can help save more than 600,000 tons of standard coal and cut carbon dioxide emissions by over 1.6 million tons annually. Once the construction of the clean energy base in the Yalong River basin is fully completed, its total generating capacity will exceed 100 million kilowatts. The current power capacity amounts to more than 20 million kilowatts.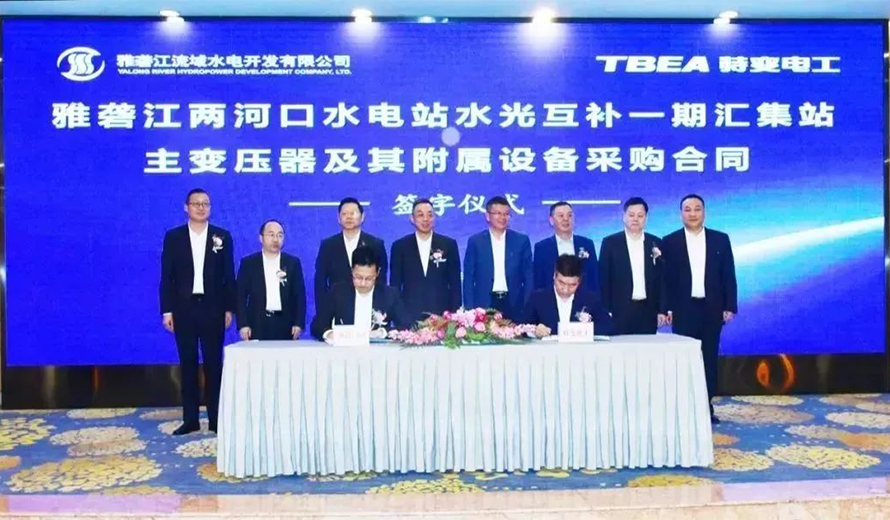 In order to ensure the construction of this new national key energy base, TBEA set up a company-level special working group for contract fulfillment, playing a coordinating role and bringing together TBEA Shenyang Transformer Group Co., Ltd., TBEA Hengyang Transformer Co., Ltd., TBEA Deyang Cable Co., Ltd., and TBEA Xi'an Electric Technology Co., Ltd. to develop and manufacture the main transformer, pad-mounted transformer, cable, GIS, inverter and other products for the step-up substation, the integrated station and photovoltaic area of the Kela project. These companies adopted a customer-centered approach, paying heed to customers' concerns, prioritizing customers' needs, preparing beforehand contingency plans for the key links of the project that may affect delivery date, establishing green channels, and making relentless efforts to guarantee contract fulfillment and the timely delivery of products of the Kela Phase I PV Power Station project.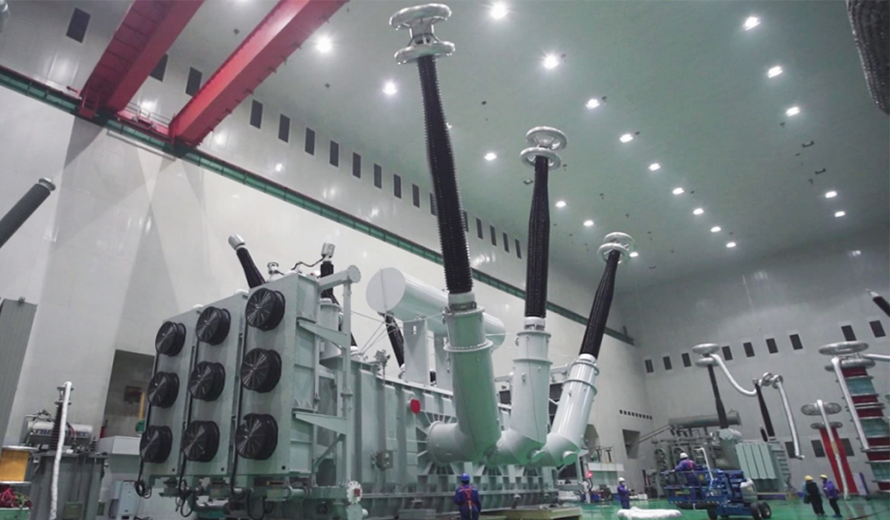 Ensuring the development and production of main transformers with high-standard design and strict production requirements,
TBEA Shenyang Transformer Group Co., Ltd. had undertaken the research, development, and production of the sole main transformer in the 500kV integrated station of the Kela PV Power Station – a 500kV large-capacity disassembled transformer.
As the core equipment of the entire project, the quality of this 500kV large-capacity disassembled transformer will directly affect the operation of the project. Meanwhile, the project is located at an altitude of 4330 meters, which poses challenges for the research and development, production, and transportation of the main transformer.
To ensure high-quality research and manufacturing of the product, chief designer Zhang Hongli immediately assembled a special technical team to guarantee quality control . As the substation lies at a high altitude, TBEA proposed a bold solution after meticulous calculation, which is to correct the external insulation parameters of the product and increase the insulation level of the air-end part from the original 500kV to 750kV, so as to guarantee safe and stable operation of the transformer. This improvement may seem simple, but it is a trend-setting milestone in the industry and has demonstrative effect. This is the first time China upgrades the voltage level of the casing of the 500kV large-capacity disassembled transformers, which is a landmark event.
In addition to casing, technicians also modified the coil of this main transformer. Usually the coil is composed of a voltage-regulating spiral structure. The common ones are 4 spirals and 6 spirals. However, this main transformer will adopt a more complex 12-spiral structure, using 48 wires to undergo two 90-degree bends. This structure is 2-3 times more difficult than usual.
According to process engineer Wang Shengnan, normally after a wire is bent, the tolerance is only required to stay within2 millimeters. However, considering that the project is located at an altitude of 4,330 meters and uncontrollable factors abound. Any deviation can lead to accidents. "In this sense deviation should be eliminated. We must achieve 'zero tolerance'." Pressing, rebound, observation, pressing, rebound, observation. After several days of hard work, Wang Shengnan and his colleagues finally completed the task. "90 degrees. Sharp. This is no small feat, even at the industry level, " said Wang Shengnan.
On May 15th, this "Pillar of the Great Power," weighing 360 tons and equivalent to the sum of 240 small cars, was successfully installed at the 500kV collector substation of the Kela PV Power Station. The process of design, production, and on-site assembly of the main transformer was shortened from 11 months to 7 months, setting the record for the shortest delivery time of the same type of transformer made by TBEA Shenyang Transformer Group Co., Ltd.. The strong transformer development and manufacturing capabilities of TBEA Shenyang Transformer Group Co., Ltd. have once again contributed to the construction of a national modern energy system that is "green, low-carbon, safe, and efficient".
Leveraging the supply advantages of the entire industrial chain and providing a "full-package" solution
TBEA Hengyang Transformer Co., Ltd. had provided Kela Phase I PV Power Station in Yalong River basin with a basket of systematic solutions including the 220kV main transformer, GIS, switchgear, prefabricated cabin and pad-mounted transformer, as well as industry-chain-wide supply. Carefully organized by the project fulfillment task force of TBEA Shenyang Transformer Group Co., Ltd., , whole-process control was applied to product design, production scheduling, delivery and installation. Ultimately, all products passed factory tests, were successfully assembled on site, passed handover tests, and were successfully put into operation, all on the first try, ensuring the construction progress of this major national energy project.
During the construction period, Yalong Hydro Co., Ltd. sent a letter of gratitude to TBEA Hengyang Transformer Co., Ltd. for providing high-quality, reliable sets of power transmission and distribution equipment for Kela PV Power Station and Lianghekou Dam, and for achieving significant upgrade and leapfrogging progress in manufacturing quality.
Assisting key new energy projects with environmentally-friendly, efficient, and reliable cable products
In September 2022, TBEA Deyang Cable Co., Ltd. and Yalong Hydro Co., Ltd. signed a product order worth of nearly 40 million yuan for the solar-hydro Phase I Project of Kela PV Power Station and Lianghekou Dam, providing more than 40 types of cable products for the project, with a total length of more than 600 kilometers.
In order to ensure timely and efficient order fulfillment, TBEA Deyang Cable Co., Ltd. established a cross-departmental working group, covering such departments as Marketing, Technology, Production, Procurement, Quality, Logistics, etc., clarifying their respective goals and responsibilities, and specifying their division of labor. With a focus on overall planning, the group formulated a timeline of key production milestones by working backwards from the delivery date, set up a green channel for order fulfillment, devised contingency plans in advance for key links that might affect delivery and prioritized product delivery of such links. They also arranged for designated personnel to come to the construction site and make preparations beforehand, and provide high-quality after-sales service on site.
From February 2023 to May 2023, all supplies were completed, ensuring the smooth progress of cable installation. No quality problems were detected thanks to the effective and proper methodology of project execution, and Kela PV Station went into operation as scheduled. TBEA received rave reviews from customers for its contribution, which laid the groundwork for its participation in the subsequent new energy projects of the Yalong River basin.